JERUSALEM (AP) — Israeli Prime Minister Benjamin Netanyahu said Saturday night that the military had opened a "second phase" to the country. War Against Hamas by sending ground troops into Gaza and expanding attacks from land, air and sea. He said it would escalate ahead of a wider ground invasion of the region.
"It's going to be long and hard," he said. "We're ready."
The bombing, described by Gazans as the most intense of the war, cut off most communications in the territory. It cuts off the besieged enclave's 2.3 million people from the world, while helping the Israeli military control the narrative in a new phase of the conflict.
The military on Saturday released grainy images showing tank columns moving slowly across Gaza's open areas, several apparently near the border, and said warplanes had dropped dozens of bombs. Hamas mines and underground bunkers. The underground bases have been a major target of Israel's campaign since then to crush the territory's governing body. Hemorrhagic infiltration into Israel three weeks ago.
Oct. 7 The escalation brought domestic pressure on the Israeli government to release dozens of hostages taken in the Hamas raid amid concerns that they were being held underground.
Distraught family members met with Netanyahu on Saturday to express support for an exchange for Palestinian prisoners held in Israel, which was replaced by a top Hamas leader in Gaza.
Netanyahu told a nationally televised news conference that Israel was determined to return all hostages, adding that the expanding ground operation would "help us in this mission." He said he could not disclose what was happening due to the sensitivity and confidentiality of the efforts.
"This is the second phase of the war, and its objectives are clear: to destroy Hamas's military and government capabilities and bring home the hostages," he said in his first time taking questions from journalists since the war began. He ignored calls for a ceasefire.
Netanyahu acknowledged that the Oct. 7 "failure" that killed more than 1,400 people needed a thorough investigation, saying that "everyone, including me, has to answer questions."
The Israeli military said it would gradually expand its ground operations inside Gaza.
"We are proceeding with the phases of the battle as per the organized plan," said Chief Army spokesman Rear Adm. Daniel Hagari. The comments pointed to a strategy of phased expansion rather than one big and massive attack.
At the beginning of the war, Israel concentrated hundreds of thousands of troops on the border. Until now, troops have conducted brief nighttime incursions before returning to Israel.
Palestinian militants have fired thousands of rockets at Israel over the past three weeks.
The death toll of Palestinians in Gaza rose to just over 7,700 since the start of the war on Saturday, with 377 deaths reported since late Friday. According to the Gaza Ministry of Health. Most of those killed were women and children, the ministry said.
Ministry spokesman Ashraf al-Qitra told reporters that the communication disruption had "totally paralyzed" the health network. Residents had no way to call ambulances, and emergency teams were chased by the sounds of artillery barrages and airstrikes.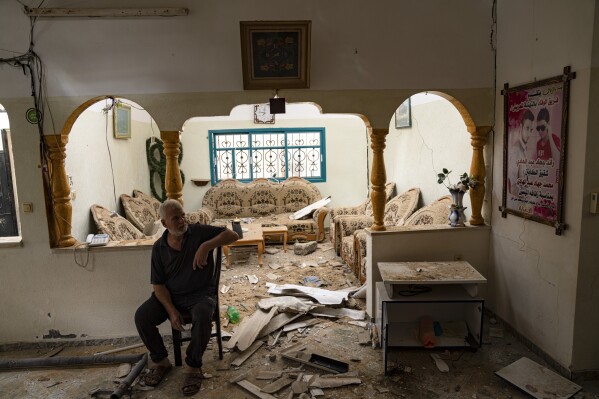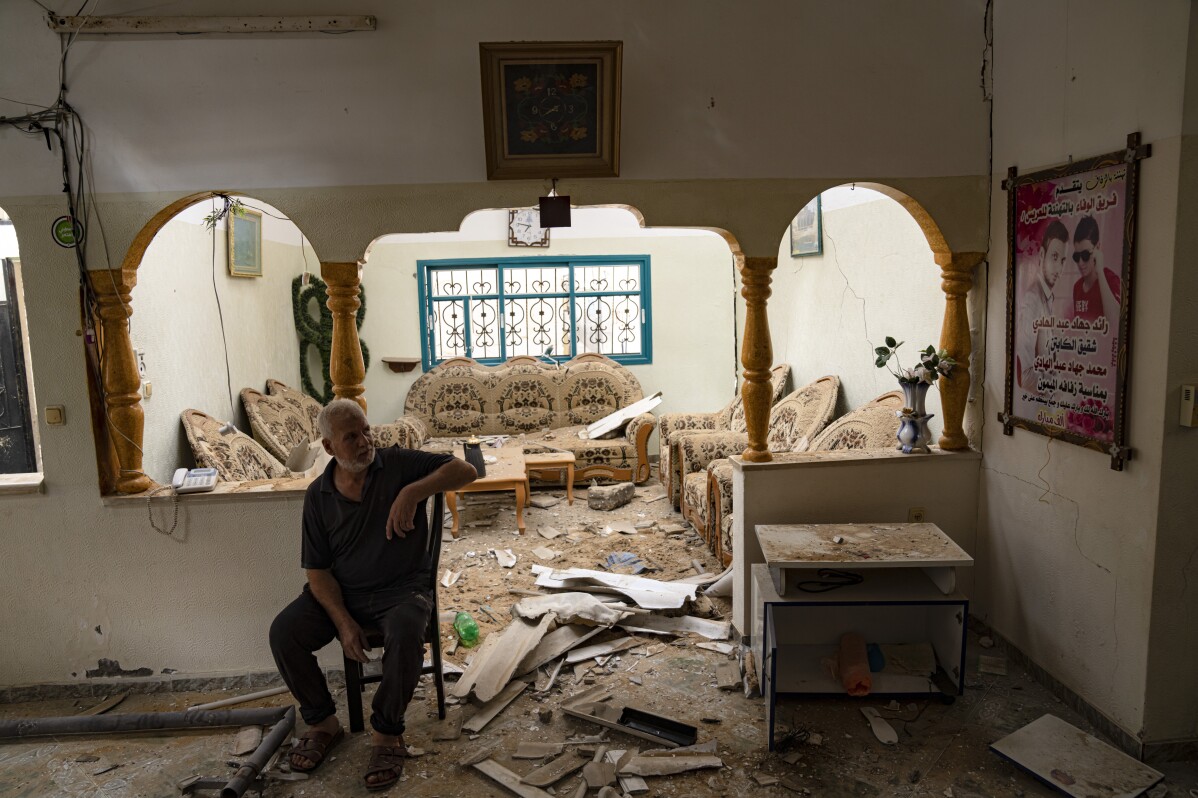 An estimated 1,700 people were trapped under the rubble, according to the health ministry, which it said was based on distress calls received.
Some civilians used their bare hands to pull the wounded from the rubble and load them into private cars or donkey carts. In a video released by local news media, Palestinians run down the street with an injured man in the dust of the rubble of a building. "Ambulance! Ambulance!" He pushed the stretcher into a truck and shouted, "Go! Go!"
Some Gaza residents traveled by foot or car to visit relatives and friends. "There were bombs everywhere, the building was shaking," said Hind al-Qudhari, a journalist in central Gaza and one of the few with cellphone service. "We cannot contact anyone or contact anyone. "I don't know where my family is."
Israel says Hamas targets fighters and infrastructure, and that militants operate from among civilians, putting them at risk.
The World Health Organization appealed to "humanity among all those who have power to end the fighting now" in Gaza. "Every hour there are more injuries. But ambulances are unable to reach them as there is a communication blackout. The morgues are full. More than half of the dead were women and children," it said.
Palestinians say the war is robbing them too Funeral rites It has provided some dignity and closure to the long-grieving. Overcrowded cemeteries have forced families to dig up long-buried bodies and deepen pits.
More than 1.4 million people have fled their homes across Gaza, with nearly half crammed into UN schools and shelters, following repeated warnings from the Israeli military that they would be in grave danger if they stayed in northern Gaza.
Large numbers of residents have not left for the south, as Israel has bombarded targets in so-called security zones, where conditions are increasingly dire. Food and water supplies ran out. Early in the war, Israel cut off the electricity.
Humanitarian workers say the amount of aid Israel has allowed to enter from Egypt in the past week is a small fraction of what is needed. Gaza hospitals are scrambling for fuel To run emergency generators that power incubators and other life-saving equipment.
UN for Palestinian refugees The agency, which runs a network of shelters and schools for nearly half of displaced Gaza residents, has lost contact with most of its staff, spokeswoman Juliet Douma said Saturday, and coordinating aid efforts is now "very challenging."
An intense air and ground campaign raised new concerns about hostages being dragged into Gaza. On Saturday, hundreds of relatives gathered in Tel Aviv to demand that the government put their loved ones back before Israel's military objectives.
In comments that could fuel these tensions, Yehiye Shinwar, Hamas's top leader in Gaza, said Palestinian militant groups were "immediately ready" to release all hostages if Israel freed all Palestinians in Israeli prisons.
Hagari, the Israeli military spokesman, dismissed the exchange offer as "psychological terrorism."
In Cairo, Egyptian President Abdel Fattah el-Sissi said his government was working to de-escalate the conflict by negotiating with warring parties to free prisoners and hostages. On Saturday, he spoke with UN Secretary-General Antonio Guterres, his office said.
Guterres said in a statement that the "unprecedented increase in bombings and their devastating impact in Gaza is astonishing."
Impatience grew among many. Turkish President Recep Tayyip Erdogan told hundreds of thousands of people at a pro-Palestinian rally in Istanbul that he was preparing to declare Israel a "war criminal" for its actions in Gaza. He did not elaborate.
Israel's foreign minister said he had ordered the withdrawal of Israel's diplomatic mission from Turkey to reassess relations.
The total number of deaths in Gaza and Israel exceeds the total number of deaths in the previous four Israel-Hamas wars combined. 4,000 is estimated.
The conflict threatens to spark a wider war across the region. Arab countries – including US allies and those with peace treaties or normalized relations with Israel – have raised alarm over a possible ground invasion.
___
Magdy reported from Cairo. Associated Press writers Samya Gullab in Baghdad and Joseph Federman in Jerusalem contributed to this report.
___
Full AP coverage: https://apnews.com/hub/israel-hamas-war.